Chimney Services by Certified Chimney Professional.
Chimney Cleaning
Chimney Liners Installed
Chase Covers Installed
Protect your family with safer chimneys, fireplaces, and dryer vents.
Heating fires account for 36% of residential home fires in rural areas every year. Often these fires are due to creosote buildup in chimneys and stovepipes. All home heating systems require regular maintenance to function safety and efficiently.
Have your chimney or wood stove inspected and cleaned annually by a certified chimney specialist.
Clear the area around the hearth of debris, decorations and flammable materials.
Always use a metal mesh screen with fireplaces. Leave glass doors open while burning a fire.
Install stovepipe thermometers to help monitor flue temperatures.
Keep air inlets on wood stoves open, and never restrict air supply to fireplaces. Otherwise you may cause creosote buildup that could lead to a chimney fire.
Use fire-resistant materials on walls around wood stoves.
Dryer Vent Cleaning
Another Firesafe service
Clothes dryer fires account for about 15,600 structure fires, 15 deaths, and 400 injuries annually.
Eighty percent of clothes dryer fires in structures occur in residential buildings.
Annually, 12,700 clothes dryer fires occur in residential buildings resulting in 15 deaths and 300 injuries.
"Failure to clean" is the leading factor contributing to clothes dryer fires in residential buildings.
New home construction trends place clothes dryers and washing machines in more hazardous locations away from outside walls such as bedrooms, second-floor hallways, bathrooms, and kitchens.
You get peace of mind and service satisfaction when you use Fire Safe, LLC.
You can feel secure knowing that your family is safe when you have your chimney serviced by Fire Safe, LLC,
Common Problems of Older Chimneys
Woodstoves and Fireplaces
Flue fires, improperly vented appliances, misused woodstoves, poor construction and excessive moisture can cause cracked or missing liners, eroded brick and mortar, excessive or glazed creosote... resulting in house
fires and carbon monoxide poisoning.
Oil and Gas Furnaces
Eroded or missing clay liners, excessive moisture in gas flues or excessive soot in oil flues can lead to cracked and missing tiles... resulting in moisture leaching into the home and carbon monoxide poisoning.
Call now for a thorough inspection of your chimney flues to prevent the hazards of fire or dangerous gases from entering your family's home.
New Life for Old Chimneys
Improve your chimney with a Lifetime Guaranteed chimney liner that will withstand the corrosive environments found in gas and oil flues as well as stand up to the high heat present in wood and coal flues.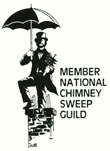 Certified Chimney Sweep